The Road – National Bestseller: Why?
Cormac McCarthy's novel The Road is on Oprah's Book Club list and critics boast that it may be his most moving story yet. It has also been hailed as the best book of the year. I will agree that the story is moving, but I found it moving because of what I filled in on my own. I will not say that this is the best book of the year. It can't possibly be the best. Heaven help us if it is.
In paperback this is a 287 page story about a father and a son and their journey across an America that is practically dead. It has all the elements of a post-nuclear America, and yet, one of the novel's failings is that you are never told exactly what happened. You must simply make the assumption that this is a post-nuclear setting.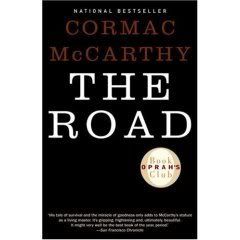 The novel starts off without any real storyline. The main character is always referred to as "he" and lacks any real name. This becomes very confusing later as you try to determine whether the man or the boy is the current "he" in reference.
From a writer's perspective, I found if very difficult to get past the fact that McCarthy writes in fragments from start to finish. Once you get into the flow, you can fly through them without much confusion. However, if anything distracts you and you lose your place then you are forced to backtrack half the page to the last complete sentence. This is the only way to understand what the fragmented thoughts are about.
McCarthy also does his dialogue very differently. It's done without attribution, save for the few rare cases where it's included to start a conversation off. From then on, you have to follow a verbal ping-pong match to know who is speaking. He also refrains from using quotation marks and practically all of his contractions are without apostrophes. Dialogue also feels very forced between the father and his son, often without much emotion present. Every transaction feels empty.
These characters are very flat and hard to relate to because of their lack of emotion. There's not much of a real conflict, outside of surviving nature, until over 100 pages into the novel. The scenes, therefore, are all much the same. They consist of the man wanting to investigate a new area and the boy asking him not to and the man explaining that they must.
The entire story feels very repetitive. The ending is another let down as nothing is really resolved. We still lacked the much-needed character emotion in the last pivotal scenes. It was as if you took a long journey only to find out that you ended up back where you started. You feel no different and nothing has changed. There's no cathartic experience with this story.
McCarthy is very descriptive and sometimes paints amazing images. However, that is lost within empty story and incomplete sentences. He has a great notion and a wonderful story idea that was not developed. I'm surprised to find this novel on the bestseller list.
This novel gets a 2 out of 5 for the simple fact that it definitely succeeded in making me think about the possibilities of a similar future. Technically this novel is a mess and the plotting is not much better off.