Wicked!
After a two week family vacation, I'm finally home. There will be more details on that soon. Currently, I'll be talking about the Broadway play "Wicked," which I saw earlier this evening at the Oklahoma City Civic Center.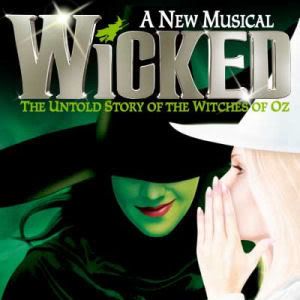 I have been waiting on this event for almost a year. My mother and I always get season tickets to the Civic Center's theatre productions and this was the last show of the season. And I just have to say that it was well worth the wait.
"Wicked" had an amazing array of talent, costumes, scenery and music. For those of you who have read the book, however, do not expect things to be quite as dark. This is a family show. Deaths are limited. And Happy Endings are present. For those of you who have not read the book, you should definitely pick up a copy. The book is delightfully involved and intricate. (Caution: I do not recommend you read this book to your small children. It is something of an adult nature.) I'll probably get around to re-reading it and blogging about it in the future. (My list of things to read is already quite long, so we'll see when I get to it finally. Or if I just give up before then.)
Ever since my mother first took me to see the musical "Annie", I've always had a child-like fascination with the theatre. I try to imagine what it must be like to dress up and play pretend on a stage in front of so many people. The thought sometimes takes my breath away. But then again, so does stage fright. But somehow when the show is over and the audience is filing out, I have to stop and take one last look at the empty stage and wonder: What's it like?
My imagination sometimes gets the best of me at the theatre. Tonight, as Galinda was lowered to the stage on a giant bubble, I was enthralled. A truly GREEN Elphaba walked center-stage, and I was captivated. The singing began and the story unfolded, and I became envious. Then you forget about everything around you and nothing exists but the story. You're only concerned with what's happening on stage.
"Wicked" is a beautiful and touching production. It's not as political as the book but it's just as meaningful. (And don't read political and think that means boring, governmental mumbo-jumbo.) Everything is simply much more in-depth in the book, but how can you take hundreds of pages and chop it up for a 2 hour performance without losing something?
Despite all the detail that's lost, you'll still feel for these characters and their cause. You'll laugh at all of the references to the original "Wizard of Oz," as you find out where the Cowardly Lion, the Tin Man, and the Scarecrow all came from. And you'll laugh again and again as Galinda amuses you with her quirks and perkiness, even when she becomes Glinda, "The guh is silent."
I hope you all take the chance to see this show if it comes to town. Otherwise you'd be missing a truly wonderful opportunity.
And I still have to say that although "Wicked" was definitely a fantasitical show, the #1 best musical play, in my opinion, is still Disney's Broadway version of Beauty and the Beast. I highly recommend seeing it, if you ever get the chance.
I definitely want to encourage anyone who has never seen a professional play (that does not include community college, universities, or high schools) to get out there and give it a shot! You just may fall in love with the whole experience.
Support the arts, people!! You'll be wonderfully entertained. And you'll be exposed to a truly unique atmosphere. Take your children too, the theatre is a special place for imaginations.
I recommend starting with something familiar for your first theatre experience. Try Disney's Beauty and the Beast, The Lion King, etc. Or perhaps your favorite musical, The Sound of Music, My Fair Lady, Oklahoma!, or try the story of the little orphan Annie. There's bound to be a movie version of something that you can first rent if you're not up to shelling out cash for pricey tickets. Be sure you'll enjoy the material before you pay to sit through it live.
Of course, this is only musical theatre I'm talking about, but don't be afraid to branch out. There's a wide variety of shows and it's a great way to spend an evening. Get fancied up in some new outfit, take a special someone out to a nice dinner, and then relax while someone else puts on the show.
It's worth it when you get to see something as exciting as "Wicked." It's a total 5. You'll be humming these catchy songs for hours afterwards.