I Blame You For My Self-Esteem, Mr. Rogers! How Dare You…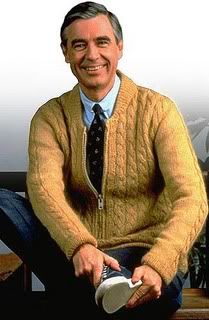 In a new article that I came across again at Fark.com, I discovered that Mr.Rogers is entirely to blame for me having ever felt "special." I suppose no child from my generation should feel any confidence or self-esteem. Well, that is unless you've busted your butt for the right to call yourself "special." This is all the opinion of a Louisiana State University finance professor.
He asserts that Mr.Rogers shouldn't have been telling all "those little creeps" how special they were, but instead reminding them all how much improvement they could use.
So if, like me, you used to sit down in front of the television and actually learn something from Mr.Rogers' program, then you're probably at risk too. You probably need just as much improvement. Chances are that your teachers think you're too cocky. Or maybe your parents hold Mr.Rogers responsible for your ambition and determination. After all, wasn't it he who told you that you could be anything you wanted to be when you grew up?
I must say, if I had known all those years ago that watching Mr.Rogers would have such a negative impact on my life, I might have watched something much more enlightening…like…oh, I don't know: Barney? Because that's so educational. Children's television programs aren't the quality they used to be, so I think it's asinine to blame Mr.Rogers for anything. At least it wasn't all about cartoon violence and action, there was always a lesson tucked away somewhere.
Anyway, take a look at this article on Mr.Rogers for the whole story.