Transformers: More Than Meets The Eye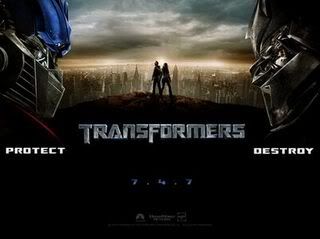 Here's the biggest movie of the summer, right? Everyone is rushing out to see it and telling all their friends to see it…but what do those people who grew up with the Transformers think about it? My generation grew up playing with the Hasbro toys and watching morning cartoons about their favorite toys. Not only did my brother chase me around with his Megatron in "gun form…" You know, Megatron? Back before he was a jet, or whatever. Pfft. But only my brother got to be Optimus Prime too. Although, I didn't mind. I couldn't transform Optimus. I couldn't transform any of them at 5 and 6 years old. I probably couldn't today. But I knew the toys and I knew the characters.
So! On that note, what did I think of the film…
Well, there are many differences from what I grew up with. Optimus is a very different type of semi-truck now, I think everything was Chevy-made, and worse of all, Bumblebee was not a VW Beetle. This was most disturbing.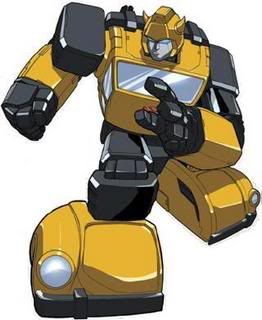 Bumblebe was a Chevy Camero. I grew up with Bumblebee as a Beetle. And he was my favorite next Roller, who was always stowed safely in the back of Prime's trailer. But though I went to see the film expecting to be let down by Bumblebee, I was pleasantly surprised. It's a different exterior but the same ol' character that I loved as a kid.
The movie opens with a huge fight scene in Qatar where the U.S. Military is stationed. Blackout, a Decepticon, attacks the base in order to hack into their information network, seeking classified files. Then the movie jumps to Sam Witwicky, who is trying to hock some of his great-great-grandfather's belongings to his class during a genealogy report.
The initial fight scene was exciting and terrifying but left something to be desired, in my opinion. I was afraid the entire movie would be like this. The Decepticon is hard to follow as it attacks. The camera is so shakey that you can't really make out a whole lot; you can't tell where robot begins or ends. It's just a mass of metal junk.
But rest assured, there are a few times in the movie when it's hard to tell what's happening during battles between the Autobots and the Decepticons. It's true that the parts aren't so clearly defined that the robots seem to melt together and become one giant moving hunk. But the movie is so utterly amazing, that you don't dwell on the fact for long.
The movie follows Sam as he tries to help the Autobots recover the All-Spark, so that they can stop Megatron from using it to transforms all of Earth's machinery into evil robots that will destroy mankind. Sounds pretty heavy for one kid, right? Thus, we bring in Mikaela, played by Megan Fox (the girl Sam wants to win), and the survivors of the attack on Qatar. They all band together to help Sam protect the All-Spark during the final battle.
One saving grace is the special effects. This movie was EXPENSIVE to make, and you can see why. When the Autobots and Decepticons are racing down the highway for Mission City (I think this was the right destination for this scene) and they transform on the road, skating down it like it's ice….the transformations are done so beautifully, you can almost believe it's real.
The main highlight of the movie, and the reason everyone can enjoy it, is the humor. It's one aspect of the cartoons that they retained. It is not a serious, war-mongering, children-won't-understand-the-depth boredom fest. The writers kept as much of the hilarity as was possible.
But let's not make it out to be entirely comical…it's not. By any means. In one scene alone, you'll feel tears pricking your eyes as you watch the way humankind treat the Autobots. They don't listen to reason and refuse to believe that any of the alien robots could be good guys.
Another blog I read about the film, written by someone who had yet to see it, said that the movie would be an immense failure because there were no stars in the movie. Therefore, no big name to carry it when it started to bomb. I'd like to read his post after seeing the movie.
Shia LaBeouf, who played Sam Witwicky, did an outstanding job portraying his character. He was perfect for the comedy and surprisingly enough, he did very well in the action. I'd never seen him in a drama or action role, so I was thoroughly impressed. I think he is more than capable of fulfilling that "star" position. But I also don't think the movie will bomb.
In fact, I think this movie can reach just about anyone who enjoys good action films. It's not a kid's movie and it's not just for my generation who grew up with the toys. It's got all the suspense you could want and you'll find yourself tensing up, wondering if the good guys will prevail.
Despite a few scenes where a steady camera would have improved the quality, I'd say the movie is a definite must-see this summer.
Nothing disappointed me enough to make this less than a Five. It almost got a 4 and a half because of the shakiness, but certain scenes with Bumblebee made up for it all.
I highly recommend seeing this before it leaves theatres.