Night at the Museum: Battle of the Smithsonian
"This movie was way better than the first one!"
That's what I was thinking as I left the movie theatre last night after seeing "Night at the Museum: Battle of the Smithsonian" which trumped the new Terminator movie this weekend, earning over 20 million more American bucks. My mother had apparently done her research prior to the movie and shared this fact with me during the previews. She said, "It's probably because it's a family film and more people are bringing their kids to see this rather than something like Terminator." And that's probably true.
But after reading the lack-luster reviews of Terminator, I'm a bit reluctant to pay the "big bucks" at the "nice" theatre to see it. After all, a Terminator movie without Arnold? I'm just not sure it was worth making it. How many franchises continue successfully without the main character, without the one responsible for garnering all that popularity and success in the first place?
As far as "Night at the Musuem" goes, I thoroughly enjoyed it. It opens up with Larry Daly (Ben Stiller) pitching his latest product, the Glow in the Dark Flashlight, on a super cheesy infomercial, just like those you watch at 2 AM when you know you should be sleeping. I cringed at first. It was like watching Tom Cruise on Oprah. I thought, "Great, they've ruined another sequel with too much cheese and campy dialogue."
Luckily, that wasn't really the case. That's just how infomercials are, even in movie-land they have to acknowledge that. But the film moves on and Mr. C.E.O heads back to the Museum of Natural History to see his buddies as they're being packed up to be shipped off to the Federal Archives at the Smithsonian.
Before you know it, Larry is breaking into the Smithsonian to rescue his friends from Pharaoh with a Lisp. I don't know about anyone else, but at this point, I almost broke off that willing suspension of disbelief when his son, Nicky, was able to pull up the floor plan for the entire Smithsonian, including restricted areas, all with convenient labels to let him know exactly what was there. (For those of you who don't know: suspension of disbelief is what people have called the ability to set reality aside during a movie and/or book or other form of entertainment and temporarily believe that anything is possible even if outside the plausibility of real life, i.e statues coming to life.)
Anyone else find it amusing that my "Nu-uh, that can't really happen!" came at a kid's being able to find that kind of information rather than at say…flying the Wright Brother's first airplane through the glass windows of the Smithsonian Castle?

In any case, just after night falls and the exhibits begin coming to life, we meet Amelia Earhart played by Amy Adams. And cue my love-hate relationship… well, maybe hate is a strong word. Amy Adams has a tendency to act slightly on the campy side, a little less than sincere. And it tends to make me laugh and cringe. She's got the ability to pull it off excellently, as we all saw in Enchanted.
As Amelia Earhart, she was definitely eccentric and probably quite fitting for the time-frame she was meant to come from…but a couple of times I felt like rolling my eyes with one of those "GEEZ!" types of chuckles while slowly shaking your head. But as happens with Amy Adams, her wacky sense of character grows on you and you just enjoy the absurdity.
Together, Amelia and Larry venture into the Air and Space building, visit the Lincoln Memorial, and fight off some interesting baddies in order to stop Kamunrah and his silly dress from taking over the world with the golden tablet.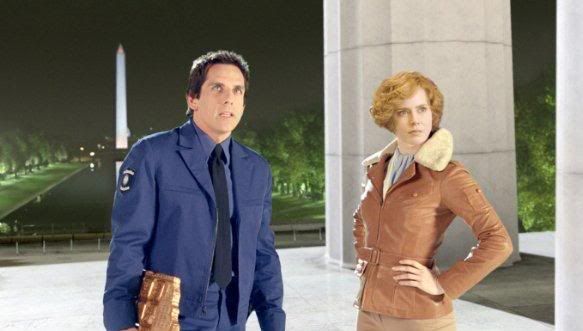 At the end of the film, I realized that movies can still be a lot of fun. I had a brush-fire lit under my backside and I felt like writing again. I felt like there were a million stories to be told, a million different things you could do, and a million adventures to be had. But in the end, I ended up having to be in bed by a certain time so I could be to work on time in the morning. Responsibility robs me of my inspiration: it only comes late at night when I don't have time to put it to good use.
I thought "Night at the Museum" was a great feel-good, family-friendly movie. If you wanna relax and laugh a little, go see it! Go with that sense of child-like wonderment. Or better yet! Go with a child who still has a strong, wild imagination and share in their laughter and amazement.
And afterwards, start saving your money for that trip to the Smithsonian. I never knew that museum had such amazing stuff in it. Hell, I didn't even know it was on the same grounds as all the National Monuments in DC… *shrugs* What're you gonna do about it but learn something new?